15 June 2015
"PLEASE BE WITH US" FEATURE IN CHINA'S "MODERN WEEKLY" MAGAZINE
Great feature on "Please Be With Us" in the new issue of Modern Weekly!
Below are the pages, and interview: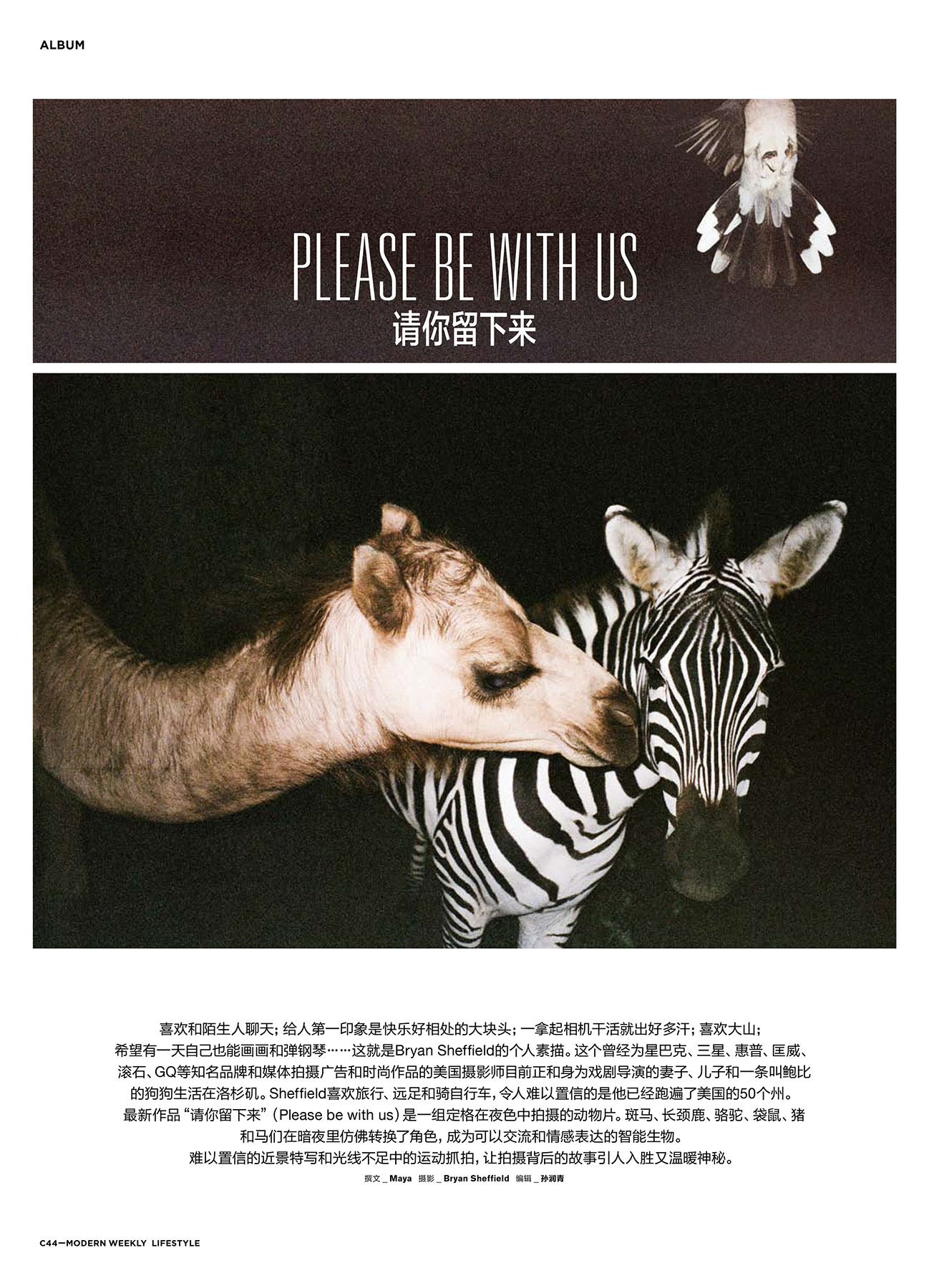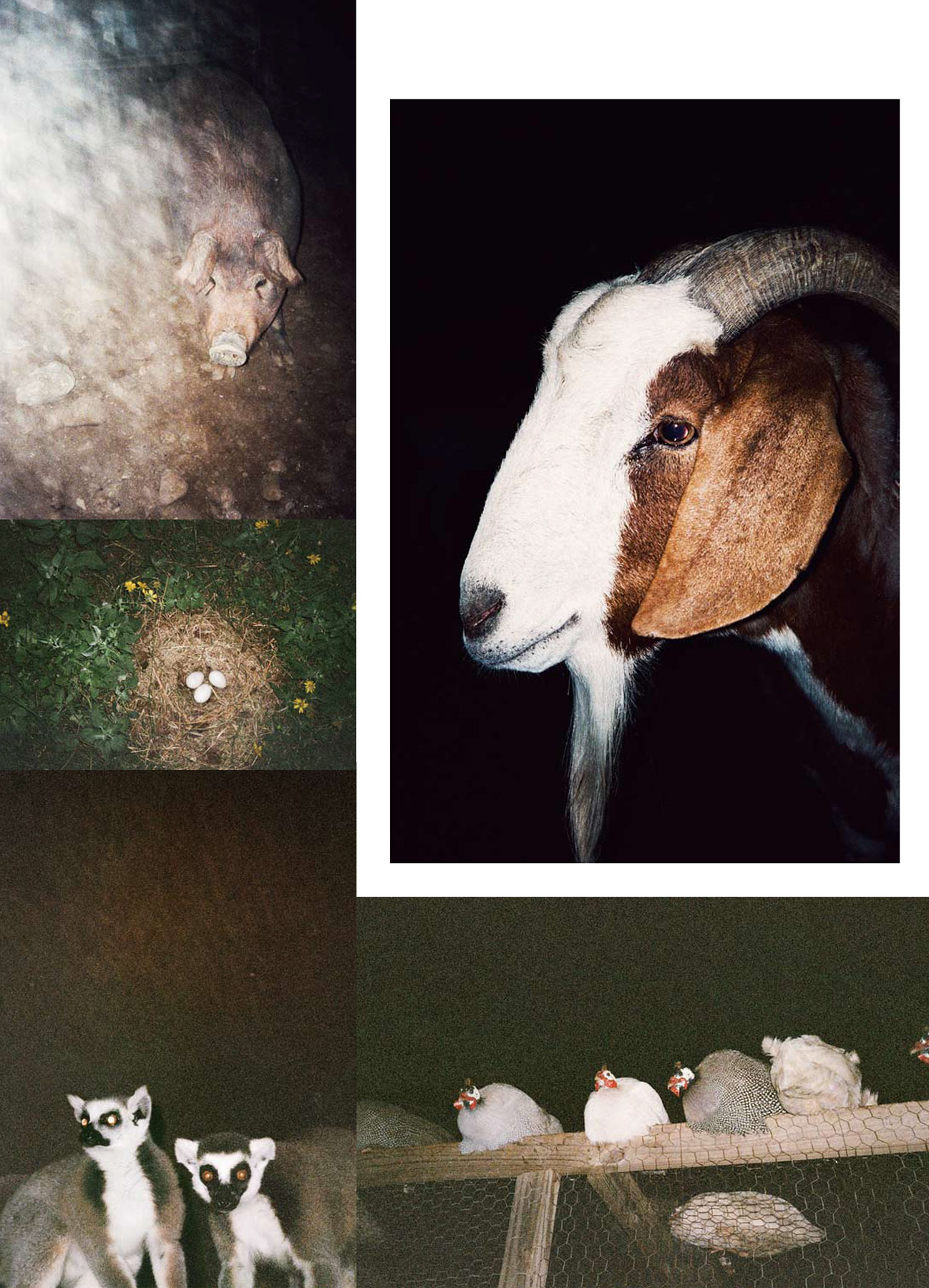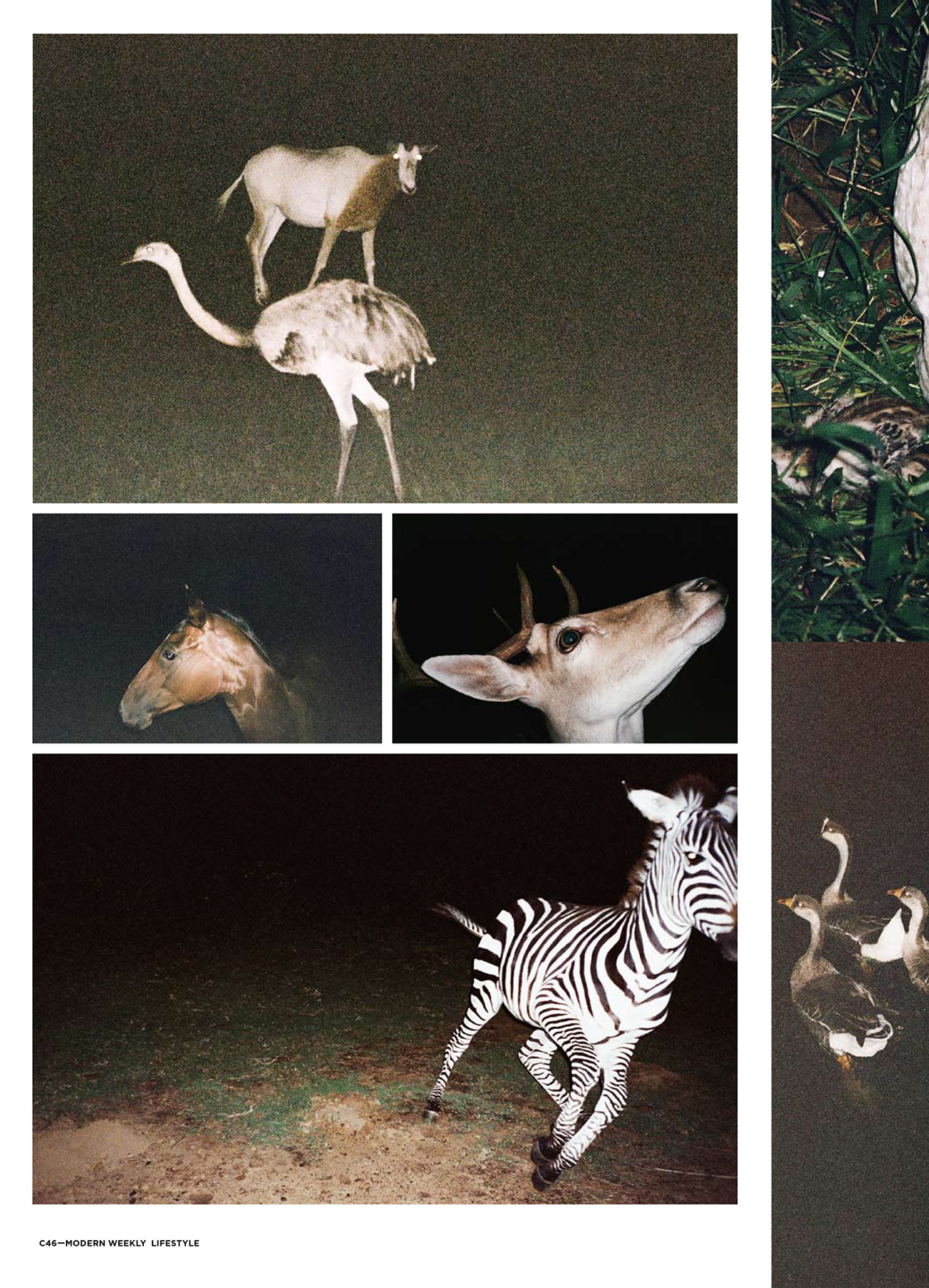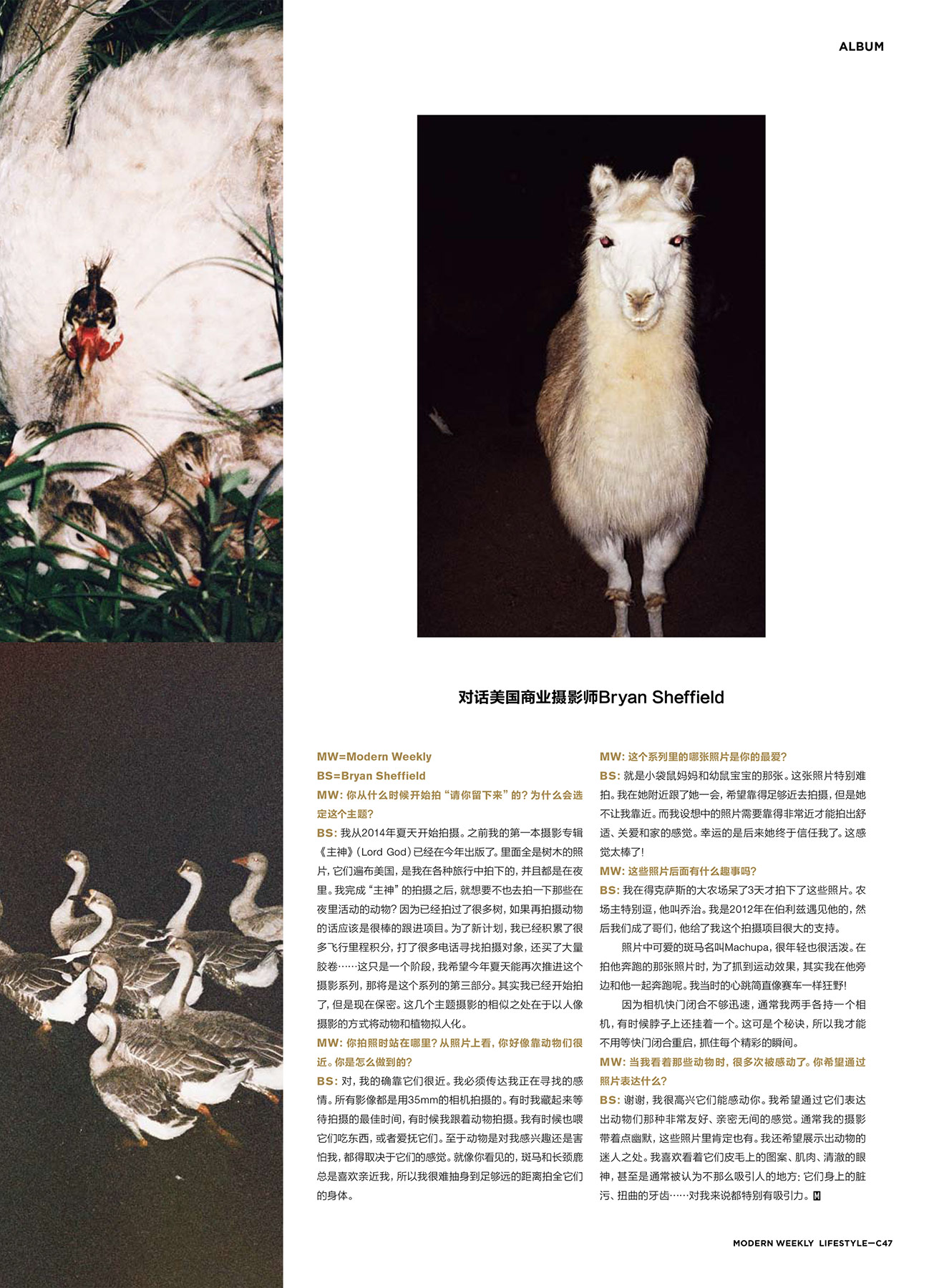 Here is what Google™ Translate has to say about it:
"I like to chat with strangers; the first impression is good to get along with the big man happy; a pick up camera work on a lot of sweat ; like mountains; I hope one day I could be painting and playing the piano …… This Bryan Sheffield is a personal sketch. This has been taken as Starbucks, Samsung, HP, Converse, the Rolling Stones, GQ and other well-known brands and media advertising and fashion works of American photographer currently working as a theater director and his wife, son and a dog called Bobby lives in Los Angeles. Sheffield enjoys traveling, hiking and biking, incredible is that he has traveled to 50 states of the United States. Latest work, " Please Stay " (Please be with us) is a group of animals piece fixed in the night shooting . Zebras, giraffes, camels, kangaroos, pigs and horses were in the dark, as if the role of the conversion, communication and emotional expression can become intelligent beings. Incredible close-up and low-light motion capture, so fascinating story behind the shooting and warm mysterious.
MW:? When did you start filming "Please Stay" Why would choose set this theme?
BS: I start shooting from the summer of 2014. Before my first photo essay "Lord God" (Lord God) have been published this year. Which is full of trees photo piece, they spread all over the United States, I was photographed in a variety of travel, and all the night in. After I finished shooting "Lord God", or else also wanted to shoot at those in Animal night activities? Because already we filmed a lot of trees, if we shoot the animals then it should be a great follow-up project. For the new program, I have accumulated quite multi-flyer miles, a lot of calls to find the subject and also bought a lot of photo film …… This is just a phase, I hope this summer can advance this again photographic series, it would be the third part of this series. In fact, I have already started shooting, but the secret now. These themes are similar in that portrait photography photography manner anthropomorphic animals and plants.
MW: Where do you stand when taking pictures from the photo, you seem to rely on the animals are? Close. How do you do it?
BS: Yes, I do rely on them very close. I must convey a sense I'm looking for love. All images were shot with a 35mm camera. Sometimes I hide, etc. The best time to be photographed, and sometimes I followed the shooting of animals. I sometimes feed. They eat, or caress them. As animals are interested in me or harm afraid of me, I had to depend on their feelings. As you can see, zebra and giraffe always like to get close to me, so I can not get out far enough from the whole shoot them.
MW: this series of pictures which is your favorite?
BS: Wallabies mother and pups are baby goes. This photo is particularly difficult to beat. I followed her around her for a while, hoping close enough to shoot, but she will not let me near. And I imagine the photo to rely very close to shoot comfortably, love and family. Fortunately, later she finally trusted me. This feeling great!
MW: What's behind these photos interesting you?
BS: I was in Texas ranch spent three days took these photos. Main particularly funny farm, he called George. I met him in 2012 in Belize, and we became buddies, and he gave me a lot of support for this shooting project. Photo Cute zebra named Machupa, very young and very lively. When he ran to shoot the picture, in order to catch sports results, in fact, he and I ran along beside him. I was just a racing heartbeat wild! Because the camera shutter closed quickly enough, I usually hands each holding a camera, sometimes hanging around his neck a. That was a secret, so I can not wait to restart the shutter is closed, seize every wonderful moment.
MW: When I looked at those animals were moved many times. What you want to express through photographs? BS: Thanks, I'm glad they can move you. I hope that they express the kind of animals are very friendly, intimate feel. Usually my photography with a bit of humor, these photographs certainly has. I also want to show the charm of the animals. I like to watch them on fur patterns, muscle, clear eyes, it is often considered even less attractive place: their body is dirty, twisted teeth …… for me are particularly attractive.